12 tags
Free webinar on Environmental Spill Response and...
Emergency prepareness and response, including testing this, is a requirement of the ISO 14001 environmental management standard, plus makes good business sence. This webinar discusses some easy to use techniques on how to do this http://www.youtube.com/watch?v=HJwFZrVzmtA&feature=share&list=UUh3ArqAPK2wFFn_na9bjIaA
17 tags
#Environmental & #Waste Management Explained- Half...
QHS Solutions Ltd are hosting a half day Environmental & Waste Management Explained course in Burnley on Friday 26th October.   Delivered by Chartered Environmental Surveyor and Chartered Environmentalist David Inman, of Blackburn based environmental consultants DIEM Ltd, this course will give sensible and practical expert advice on reducing environmental and waste management risks and...
11 tags
The Virgin Trains revolution got it right
I've got to say that I'm very disappointed that Virgin Trains lost the West Coast Main Line (WCML) franchise as a regular user. When they took over the franchise, they inherited out of date rolling stock running on out of date infrastructure. As someone who worked on West Coast Route Modernisation (WCRM) on PWay, OLE & civils projects, I saw at first hand the engineering...
11 tags
RICS Lancashire Local Association/RICS Rural &...
gdl_aug_12.pdf Download this file
8 tags
Testing your emergency environmental planning...
Is your organisation is responsible for storing and transporting materials that could cause pollution if they leak or are spilt, such as •       diesel •       oil •       chemicals?   If so have you prepared an environmental incident response plan?   I've been working a construction client in this area to reduce their risk and meet the requirements of ISO 14001:2004.   You may want to...
9 tags
The good case for saving energy on a construction...
I'm noticing recently a slow improvement of energy saving measures on construction sites.  For example I've attached a photograph of a sensor activated hot water tap. Many clients ask for energy saving examples, so please explore the options when ordering site accommodation for energy saving measures such as light sensors, timers for heating, alternative heating sources (to diesel)...
10 tags
Poll says 71% of surveyors & environmental...
Thanks to all who responded to my poll for "Are you in favour or against the new High Speed 2 rail link in the UK?". The total result was Yes to HS2 126 (71%) No to HS2 52 (29%) The results are interested and varied between the groups I invited to participate on Linkedin: Linkedin group "Royal Institution of Chartered Surveyors" Yes 98 (70%), No 42 (30%)...
9 tags
Free webinar - The 8 Principles of Quality...
This free webinar gives a brief introduction to the 8 principles of quality management.
6 tags
Was your fuel secure this weekend?
The rise in fuel prices in the UK may result in an increase of thefts of fuel nationwide.   Did your organization know it's fuel was stored safely out of hours over this weekend?   Fuel theft does not only cost firms and organizations money, but if the theft causes a pollution incident by releasing diesel this could result in prosecution, civil claims and loss of reputation which may affect...
Unpredictable climate changes
As you can notice in the UK, our climate rapidly changes. From winter like conditions yesterday to full summer today. Please take heed & plan ahead for weather changes and extremes. Check on the EA website in England & Wales whether you are in an area of flood risk for when the weather changes quickly and flash floods arise. Sign up to free flood alerts if you are at risk as it's...
3 tags
London 2012 Olympic Torch comes to Formby
The DIEM Ltd Merseyside Office in formby pauses activity to support the Olympic Torch passing through the village.
6 tags
We are delighted to have won the #SmartSocial...
The DIEMLtdTV video channel on YouTube at www.youtube.com/diemltdtv has helped us win a Smart Social Award. We both enjoy making these videos and feel it helps us give something back to the global business community. Making videos can be done with an ordinary digital camera which has video mode and software you can get free with a PC. Why not give it a go. Videos can also be used for site...
7 tags
What Twitter has done to me
Having recently been ranked as 1st in The Construction Network's RICS Chartered Surveyors on Twitter, Ive reflected on what Twitter has meant to me: T - Timely W - Worldwide I - Instant T - Transparent T - Timesaving E - Economical R - Responsive Thanks to all who have followed @DIEMLtd RICS Chartered Surveyors on Twitter #tCnRICS100 list can be found at: ...
11 tags
"Environment and Waste Management Explained"...
QHS Solutions and DIEM Ltd  Environmental Consultants, have worked together for several years delivering related services.   Our firms share the same values in the delivery of high quality and cost effective services to Client. We are now offering this new half day    "Environment and Waste Management Explained" course on Friday 25th May from 0930 to 1230 in Burnley. Course Aims This...
13 tags
Quantity surveyors – construction's future...
The RICS APC (Assessment of Professional Competency) pathway guide for Quantity Surveying describes the discipline as:   Quantity surveyors are the cost managers of construction. They are initially involved with the capital expenditure phase of a building or facility, which is the feasibility, design and construction phases, but they can also be involved with the extension, refurbishment,...
9 tags
Green Drinks Lancashire - Ormskirk, 25 May 2012
Green_Drinks_Lancs_May_12.pdf Download this file Green Drinks Lancashire returns! Friday 25th May 2012  5:30pm The Green Room 39 Moor Street, Ormskirk, L39 2AA Come and join us at this free networking event for likeminded sustainability professionals. 5 mins walk from Ormskirk Railway Station. Adjacent to Ormskirk bus station which also has ample parking. ...
12 tags
Effective networks, not networking for...
I'm delighted to say that after helping relaunch RICS Lancashire Local Association, our new Linkedin group being at: http://www.linkedin.com/groups?home=&gid=4422000&trk=anet_ug_hm a few likeminded individuals are resurrecting Green Drinks Lancashire, again our Linkedin group page is at: http://www.linkedin.com/groups?gid=2051847&trk=myg_ugrp_ovr However, we are not doing...
12 tags
SWMP - not dead yet
The word on the street is that Site Waste Management Plans (SWMP), which are statutory waste management plans for construction projects in England, however they are still with us. I'm not going into details of SWMP and details can be found at http://www.environment-agency.gov.uk/netregs/businesses/construction/62359.aspx but I'm undecided whether they should end. On the side who...
9 tags
ISO 14001 - get the basics right & the rest will...
When I with clients being audited for ISO 14001 I pay very good attention to the auditor. This is mainly as a lead EMS auditor I'm interested in seeing how other auditors work, but secondly I'm fascinated about the differences between auditors. However, what doesn't change is that the have to audit against the clauses of the standard. Personally, when writing an EMS I like to...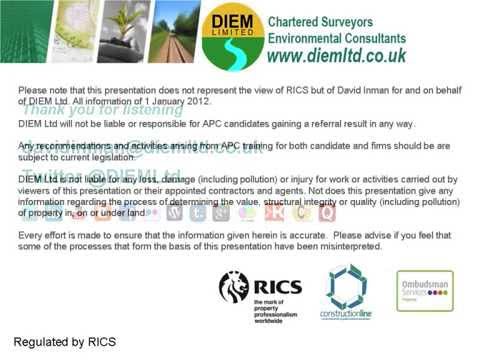 11 tags
A mindset for Green Deal
Green Deal is coming and whether you are basing your business plans on it or not, it won't go away. I've recently, in conjunction with Martin Brown of Fairsnape via the Lancashire Construction Best Practice Club have given several talks to construciton professionals about Green Deal and the PAS 2030 standard. Construction profesisonals I've been talking who are interested in...
The king of cycle racks
On my recent visit to Holland I saw the biggest bike rack I've ever seen: As you can see, this 3 storey monster has quite a few bikes stored on it. It's right next to Amsterdam Centraal railway station and has access to the local network on segregated cycle lanes. I admit, it's needed in a bike mad and car unfriendly city such as Amsterdam, but compare this to some of the...
11 tags
Sustainable transport - that means forget the car
I travelled to Holland with my partner last weekend and in a commuter centre between Amsterdam Centraal Station and Schipol Airport I saw a park and ride which was about 2 Euro per day. The ironic thing was that it was only about a quarter full of cars on a weekday.  Unlike this, the cycle storage facilities were vast, well used and in good condition.  Why is this? Well, in my opinion the...
Professional site fashion
For those who have met me, you'll know that my working attire varies greatly. When in a client office based environment shirt & tie, for clients who don't wear ties, I dont wear one after a few visits. Seminars & professional meetings I wear a suit. Which brings me to the next option, site clothing… Today Ive been working at a railway depot doing a waste audit with the...
9 tags
Discombobulated carbon
Heard that the EA are giving free construction carbon calculator training. My response is "why". The calulator is self explanatory and time would be better spent with clients engaging with their supply chains to what benefits it the calculator going to give. I went to such a supply chain event recently with a client and a main contractor was totally honest in saying carbon was going to...
12 tags
Dirty, slow, expensive and uncomfortable. A...
I had the most uncomfortable rail journey ever yesterday between Formby and Ramsgreave & Wilpshire (near Blackburn) and I feel I should share my thoughts. The first leg was actually not too bad on Merseyrail as it was fast, frequent on old but refurbished and clean stock. I had to change at Southport where things got bad when passengers were shoehorned class 142 Pacer, a train which was not...
15 tags
New video - Introduction to PAS 2030:2012 by David...
David Inman MRICS CEnv of @DIEMLtd gives a brief introduction to PAS 2030:2012 at the launch of the @LCBPC Green Deal Club. Link to video is below:
8 tags
New video - Lancashire Green Deal Club Launch &...
New video of Martin Brown @fairsnape launching the @LCBPC Green Deal Club in Preston, February 2012. Link to video is below:  
9 tags
@DIEMLtd mentioned on @IndustryToday about @lcbpc...
After attending yesterday's excellent Lancashire Construction Best Practice Club Green Deal Consortium Club launch in Preston, I'm delighted to see DIEM Ltd mentioned in Industry today. A link to the article by Katie Brown of SMPR is at: http://www.industrytoday.co.uk/green_deal_industry_today/green-deal-consortia-launch/10239 The event left me with a sence of optimism about the...
21 tags
Blackburn to Manchester Airport High Speed Rail...
I'm thinking back about 6 years when the now Chief Executive of Blackburn with Darwen Borough Council (BwDBC) said to a meeting of businesspeople in the area "there will be a high speed rail link to Manchester Airport within five years. Or there will be at least twinning of the line between Blackburn and Bolton". It's 2012 and the following facts are still with us: it...
4 tags
#CSR - past volunteering, now social media
After reading an excellent article this morning about CSR, it's amazing how many people rely on volunteering staff time or donating money to try and deliver it. Yes, giving up some time or supporting charities is fine, but when money and resources are tight look at different and FREE ways to deliver CSR. One way I've done at giving something back is to publish webinars on Youtube...
Spinning plates on the dramatic tour of events
Isn't it odd how unrelated things remind me of work.  Last night I went to see a Dream Theater concert in Manchester and on the drums was a spinning plates logo from the band's latest album.  This reminded me how I'm spinning plates and not dropping any as I'm so busy.     This is not meant as a brag as whilst I'm very busy at the moment, there have been periods in the last 6 years I've been in...
9 tags
Real environmental KPIs (and not massaging...
Recently I've been doing quite a lot of work with clients to set and monitor environmental KPIs. The actual requirements of ISO 14001:2004 for this are driven by clauses 4.5.1 Monitoring and measurement and 4.3.3 Objectives, targets & programme(s) but it can deliver requirements for:    4.3.2 Legal and other requirements eg by meeting client requirements and some legal requirements in...
4 tags
Common sense for construction carbon
This morning I attended a construction carbon supply chain meeting and presentation with the common sense involved being fantastic. It was run by a main contractor who were showing free (yes FREE!) tools available, namely the EA's construction carbon calculator. The presenter then showed how to use the calculator and someone who has used it gave a case study. It was a simple as that. No...
14 tags
#Greendeal and the @LCBPC balanced view
The impending Green Deal is really whipping some people up into a frenzy, but I've been here before.  Without naming names and these people should have had some professional responsibility, many years ago I attended a Domestic Energy Assessor (DEA) and Home Information Packs (HIPs) briefing where these persons were saying you could earn £150 per energy assessment and do up to 8 a day. I...
6 tags
Higher prices for older trains
With the recent annual fare rises and some Train Operating Companies (TOCs) replacing their trains with older stock (eg Northern's most modern train, the Class 158 being replaced by much inferior stock), should passengers pay less for travelling on less comfortable trains? The question is that whilst some TOCs have investment as part of the franchise, others have the mission of running the...
7 tags
First environmental site good practice pictures of...
Please click on link below to see photos of good environmental practice on site during January 2012.
7 tags
Environmental Auditing Blog 2012
After my first batch of construction site environmental auditing for 2012, it's reassuring that the number of construction related activities has slimmed to a trickle.  By working with site managers, sometimes over several years, their environmental awareness has grown without sending them on courses which takes them away from sites and can be expensive. I've also noticed a more open...
Environmental information blockers
Whilst the construction industry is talking about BIM and modern ways of project information management, it seems that environmental informaiton can still get stuck in the system. How many environmental professionals do I meet who struggle to get hold of ecology surveys or GI reports.  So, when looking at information management on a project, please don't forget to include environmental...
5 tags
Clocking up the miles
I can't say this forthcoming week is going to be relaxing as my intenerary is: Monday -  Rochdale Tuesday - London Wednesday - Warwick Thursday - south Kent Friday - Suffolk in both meetings, direct client work and site audits.  However, except the London trip, I'm driving due to the remote nature of the destinations.  Talking to clients, we all seem to be travelling more and...
4 tags
Valued environmental help
Everyone is scared of the Environment Agency (EA). To be honest I find their guidance OK, albeit some a little wordy and their website not the easiest, plus help is quite prescriptive. My advice is don't bury your head in the sand, especially if you are working in on or over rivers, contact the EA. The Agency seem happy to help once you get through to the right department. So, why not give...
13 tags
HS2 - Let's be bold
Let's get this straight, Britain's railways are no longer the music hall joke which they were.  We have a rail industry in growth with ongoing development and improvements like we've never seen since Victorian times. OK, there are problems such as with fare increases, train operating companies not performing to the level of their profit, train orders not being placed in UK and...
8 tags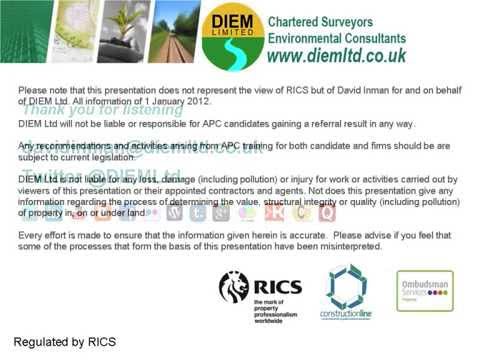 7 tags
Highlights of 2011
Best album 1. Opeth Heritage 2. Dream Theater A Dramatic Turn of Events 3. Black Country Communion Black Country Communion 2 Best film 1. No number 1 - haven't seen that many new films in 2011 2. The Inbetweeners Movie 3. Paul Best concert 1. Roger Waters- The Wall (Manchester MEN) 2. Rush - Time Machine Live (Manchester MEN) 3. Black Country Communion - High Voltage Festival...
8 tags
Rail replacement service bus blunders
Before I start, this is not a rant or moan, but yesterday I had a shocking journey from Formby to Liverpool supposedly on a train. Now, having spent many a weekend on such works in the past, railway maintenance and renewals need doing and blockade working during holiday periods is the best option. To set the scene, a railway bridge at Sandhills north of Liverpool was being renewed and there was...
8 tags
A picture tells a thousand words (almost!)
When auditing, you can have to write a lot of information. However, do you actually have to scribe? Recently when auditing, I've started taking many more photographs. This is for twofold, one to save writing detail when the weather on sites is a challenge, despite using a weatherwriter. Secondly, the photos can be used to share good practice. However, for the latter, I'm very careful...
8 tags
The Only Way is Ethics this Christmas
It's that time of year when you may be invited to a customer's Christmas party, or receive a business gift from a supplier, but please beware of being compromised professionally.. RICS have mandatory rules for firms and members, but are useful for all professionals The Bribery Act 2010 is reflected by RICS Rules of Conduct for Members (Version 4) 3. Members shall at all times act with integrity...
7 tags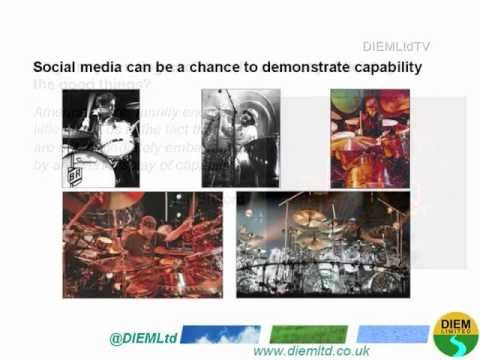 1 tag
Waste exemption video case study
New video case study looking at waste exemptions http://youtu.be/8E9rNaC1CVc
12 tags
Preparing for "Preparing for Green Deal"
I'm currently preparing for a presentation called "Green Deal, the Property Perspective" for the Lancashire Construction Best Practice Club Green Deal event next week.  As I'm writing it there are more questions than answers and for anyone actually preparing for Green Deal, and I'm thinking don't put all your eggs in one basket. The business risk of relying on Green Deal may be high because of...